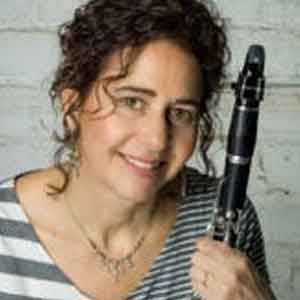 JO-ANN STERNBERG
Clarinetist Jo-Ann Sternberg leads a diverse musical life in the New York area as a chamber musician, orchestral player, and music educator. Jo-Ann is a member of the Borealis Wind Quintet, the Saratoga Chamber Players, Wind Soloists of New York, the Richardson Chamber Players and the Riverside Symphony; principal clarinet of the orchestras of the Oratorio Society of NY, the NY Choral Society, and St. John the Divine; and regularly performs with Orpheus Chamber Orchestra, the American Composers Orchestra, Mark Morris Dance, the American Symphony, the Chamber Music Society of Lincoln Center, Musicians from Marlboro, and plays often in a number of Broadway musicals.
Following her undergraduate years in the combined Tufts University/New England Conservatory dual degree program (BA in English/BM in Clarinet Performance) where she was mentored by Peter Hadcock, Jo-Ann continued her studies at Yale University with David Shifrin and at The Juilliard School with Charles Neidich (MA in Clarinet Performance). Currently, she serves on the faculties of the Music Performance Program of Princeton University, the Music Advancement Program at Juilliard, the Manhattan School of Music Pre-college, and she maintains an active teaching studio in New York City. Additionally, she is a mentor for the Juilliard Mentoring Program and coaches chamber ensembles for the New York Youth Symphony.
During the summer, Jo-Ann lives in Maine where she is the Founder and Artistic Director of The Maine Chamber Music Seminar at Snow Pond, performs and teaches at the Chamber Music Conference & Composers' Forum of the East, and participates in numerous festivals throughout New England, including residencies at the Portland Chamber Music Festival, Salt Bay Chamber Fest, Mount Desert Chamber Music Festival, Sebago/Long Lake Festival, Bowdoin Summer Music Festival, and Marlboro. From September through May, Jo-Ann resides in Manhattan with her family. She is a Selmer Artist.