North Country Chamber Players
White Mountains Music Festival
By popular demand, the North Country Chamber Players, have added an additional pair of free, outdoor, socially distanced afternoon concerts to open their 43rd season, on September 12 and 13, under and around the Dow Pavilion in Franconia. The Chamber Players were one of a very small number of professional musical ensembles, in the entire country, to present successful live events this summer and, just like the festival concerts, this carefully chosen, one-hour program is suitable for listeners of all ages and musical backgrounds, and is designed for maximum enjoyment of the al fresco musical experience, including professionally engineered sound amplification.
Their 'Fall Romance' event: The "The Joy of Sextets," will feature some of the most passionate, beautiful and exciting music ever written for six-string instruments, including highlights from beloved works by Tchaikovsky, Dvorak, Brahms, Strauss, and the iconic 'Dance of the Blessed Spirits' from Gluck's Orpheus.
Chamber Players members Ronnie Bauch, violin, Ah Ling Neu, viola, Chris Finckel, 'cello and flutist Susan Nidel, will be joined by North Country audience favorites, 'cellist Melissa Meell, violinist Gabriela Diaz, and making her Chamber Players debut, violist Dana Kelley. All award-winning musicians, Melissa and Dana are both members of the acclaimed Orpheus Chamber Orchestra, and Gabriela has been described by music critics as "a young violin master" lauded for her "vivid and elegant playing."
Both concerts will begin at 4 PM.
In recognition of the on-going COVID-19 pandemic, all attendees are required to wear masks and observe proper social distancing from all persons outside your immediate household. With everyone's cooperation in following these guidelines, and in sharing courteous respect for our neighbors, we are confident these concerts will be safe, fun and uniquely uplifting events.
This Fall Concert is free, but online registration is required for all seating. Please bring your ticket with you.
SUPPORT NCCP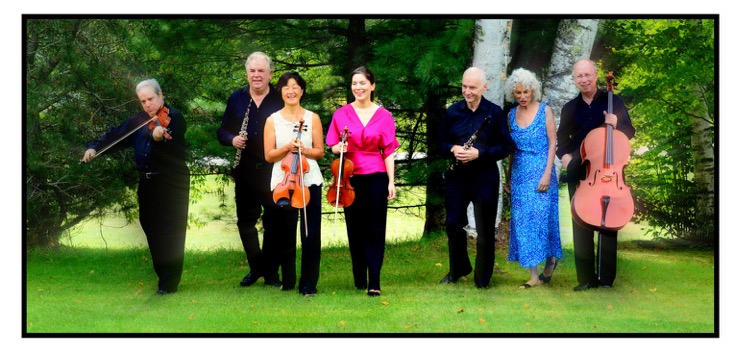 Your support has continued to allow us to offer music lessons, public school residency programs, and so much more.
North Country Chamber Players,
White Mountains Music Festival
Recognized as one of New England's finest musical ensembles for four decades, the North Country Chamber Players combines the talents of principal players from internationally renowned orchestras and chamber groups. Their world-class performances of old and new classics in relaxed and comfortable settings have made the Chamber Players a fixture of northern New Hampshire's cultural scene.
"One of the outstanding cultural resources
in the state of New Hampshire"
– NH State Council on the Arts
"A sophisticated group of experienced, passionate,
focused, and obviously talented musicians"
– Boston Musical Intelligencer
Artist Members: Ronnie Bauch, violin; Ah Ling Neu, viola; Chris Finckel, cello; Donald Palma, double bass; Susan Palma-Nidel, flute; Allen Blustine, clarinet; Bernard Rose, piano; Joel Timm, lecturer; Kemp Jernigan, oboe; Bernhard Scully, horn.
NORTH COUNTRY CHAMBER PLAYERS
ONE OF NEW ENGLAND'S FOREMOST MUSICAL ENSEMBLES